Links
Here is listed several links to essential web-pages of the parish radio theme.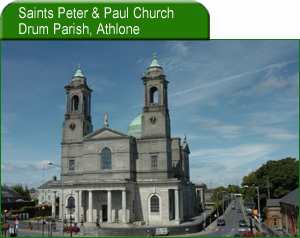 Wikipedia - Roman Catholic Church in Ireland
All basic information of Irish Catholic Church published in Wikipedia
Irish Catholic Chruch (www.catholicireland.net)
Portal for the Catholic Church of Ireland with all kind of information.
Includs Northern Ireland.
Irish Catholic Chruch - Mass time search (www.catholicireland.net/mass-times)
You can search Mass times for any church in Ireland and Northern Ireland.
R.I.P. - Ireland (www.rip.ie)
Current death notices and funeral arrangements for Ireland
Obituaries-NI (http://obituaries-ni.co.uk)
Current death notices and funeral arrangements.for Northern Ireland
Village-names in Ireland / Village-names in Northern Ireland
List of all received parish radios on 27 MHz (pdf)
This pdf-list is the complete information of the identified churhes with frequencies, addresses etc.
The list is compiled by Patrick Robic from Austria.
ComReg - WPAS - Info/application (pdf)
Basic information and application form of WPAS-broadcasting (Wireless Public Address System) in Ireland published in 2006.
ComReg - WPAS - Decrees etc. (pdf)
Decrees and technical information for WPAS-broadcasting system in Ireland
Ofcom - CADS - Northern Ireland
Decrees and regulations for similar public broadcasting for Northern Ireland, CADS (Community Audio Distribution System)