What is parish radio?
Parish radio is a little 27 MHz CB-transmitter inside the church. The whip-antenna of the transmitter is high in the church-roof. It broadcasts all the events live from the chruch, including the Masses, celebrations, funerals and sometimes marriages and child christenings or music concerts.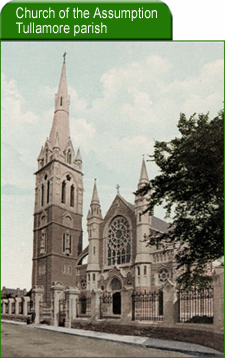 The communications regulator in Ireland, ComReg, (Ofcom in UK) takes applications from the parishes for the start of parish radio. However, according to the law this is not convetional broadcasting, like commercial local radio. Parish radios are stated to be WPAS-broadcasting (= Wireless Public Address Stations), which in this case, broacast live public church-events. No other content is allowed, like advertising etc.
This has been possible after the law of broadcasting in Ireland published in year 2006. There seems to be several hundreds of churches on the air (perhaps 200-300?).
This same system is called CADS (Community Audio Distribution System) in Northern Ireland, UK.

These broacasts are for elder or sick people who can not arrive to the chruch. The listeners can buy a cheap CB-receiver from the parish office (costs 30-40 €).
The output ERP-power is allowed to be 4 Watts and - with that the signal can reach locally several miles - but easily skip far away via ionosphere (1800 - 2200 km to Finland). Almost all use FM-modulation because it gives very good audio quality.
The whip-antenna is usually high in the roof of the chruch to maximize signal coverage.

The Mass-broadacasts aired from the chrurches have unbelieavebly good sound quality!
The speaking is almost always very clear, well mic'ed, all talking and singing is well processed and compressed. Clearly some professional company has installed the audio- and transmitter-systems to the churches. No distortion, no audio-level variety etc. (very very rarely poor microphone or uncomfortable echo). I am impressed of the good quality because I have installed several audio-systems myself during the years.

I must also note here that some of the parishes use coventional FM-dial, 87.5 - 108 MHz, for parish radios, like 108.0 MHz. I do not know if they have licensies for that. I have also heard two parish radios on FM in summer 2014, but no luck to identify where they where coming from.
If your parish uses 106.6 or 108.0 MHz, please listen my recordings: 1) 106.6 MHz-recording 2) 108.0 MHz-recording.
Both heard on Thursday afternoon 3.7.2014 (exceptional time). I have asked from several parishes who have announced they use these frequencies but no matches and no luck to solve these broadcasts.
This is extremely rare to hear signals from Ireland on FM (once an year). It is possible only at summer time.